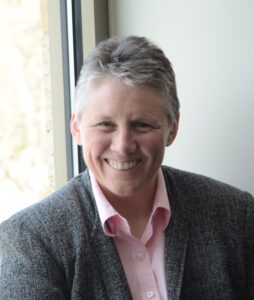 Welcome, Heidi!
We are excited to announce that we have hired a new executive director! Heidi Maghan will take the lead position on Monday, October 11. She has 38 years of experience working with and advocating for individuals with disabilities, most recently serving as the director of customized employment at Kaposia, Inc., a disabilities services organization focused on providing employment opportunities in the Twin Cities area. Current Epic Enterprise executive director, Linda Hibbard, will retire after 43 years at the organization.
The mission of Epic Enterprise is something that Heidi is well-positioned to carry forward.
"This is an exciting opportunity to continue the legacy that Epic Enterprise has created and to continue to establish higher expectations in the field of supported employment," says Heidi. "I'm an advocate for people who others think are unemployable due to behavioral or physical challenges. In seeing their successes, my passion and belief that all individuals can work in the community has grown stronger – and that will continue at Epic."
Finding the Right Fit
Epic Enterprise's board of directors has been dedicated to finding the right leader, conducting a thoughtful search over the past several months. "We are so pleased to have someone as passionate as Heidi take on this role," said Kathleen Doran-Norton, Epic Enterprise board president. "She has been a customized employment consultant for two of Epic's employment agents, served on the National Association of People Supporting Employment First (APSE) board of directors for several years, and has connections with national thought leaders – it's a great combination for a new leader."
Linda Hibbard, who has served as Epic Enterprise's executive director since 1997 and witnessed major growth in participant enrollment and programming, will remain available to assist with the transition. "I have been honored to work together with an amazing group of people over the years," says Linda. "It has been a privilege to see the role Epic has played in providing opportunities for people with disabilities to thrive and become more engaged with their communities. I look forward to watching the organization provide life-changing support for many years to come."
Over her career, Heidi has also held disability services-related positions as a program supervisor, community support specialist, team coordinator, services coordinator, and more. Once situated in her new position at Epic, she will begin to meet clients, their families, and the broader community.