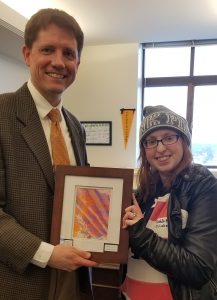 Tina Piper, Tim Couillard, Nick Pavek and Codi Glasgow attended the 2019 Day at the Capitol to show their support for a competitive workforce and encourage their legislators to support their services.
They attended a rally that was held in the rotunda of the capital, where several Senators and Representatives spoke and showed their support for statewide disability service providers.  The group cheered loudly and clapped in support along with everyone else in attendance.   It was an enjoyable and unique experience for each of them.
Codi met with Representative Todd Lippert and shared with him what she does during the day and how important her services through Epic are.She brought him a piece of Epic artwork and he really appreciated that!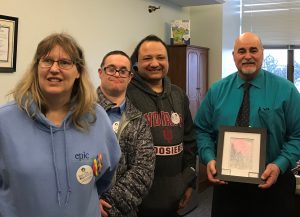 Tina, Tim and Nick met with the representative from their district, Representative Daniels. They each had a chance to tell him about their jobs and what they do and why it's important to them.   Tina added that having more money would lead to better quality staff. Representative Daniels asked a few questions and expressed an understanding of our need for increased funding.   He was delighted to receive a piece of artwork created by an Epic arts learner .  The entire group then met with Senator Draheim and shared their stories with him.  Everyone had a great time and felt they made an impact on making a difference to the services they receive through Epic.