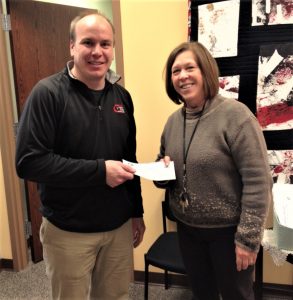 CarTime in Dundas was instrumental in helping Epic receive a MnDOT bus grant by their commitment as a Financial Partner. Jared Huber from CarTime presents Linda Hibbard with their 2016 Contribution.
Transportation is such a critical part of delivering services and fulfilling our mission. All the activities we do focus on achieving our mission. Simplified, it's broken down into three words: Opportunities, Relationships and Community.
Opportunities – We work to discover and build on the strengths of each person while exploring environments in which he or she can thrive.
Relationships – We encourage friendships, because every person needs friends and everyone benefits when we all contribute to the lives of others.
Community – We facilitate the development of valued social roles and mobilize individual assets to shape a richer community.
Contributions like this help us achieve our mission. On behalf of all of the people we support, thank CarTime!